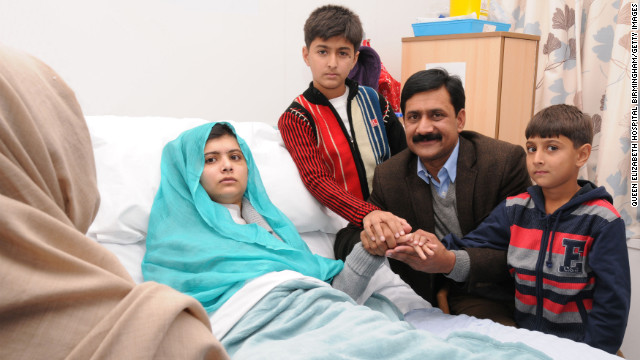 Pakistani schoolgirl Malala Yousafzai rose to limelight in 2012 after she was shot in the head while returning home from school in her school van. At the time, she was 15 and the Taliban; the group who claimed responsibility for the action said Malala's writings were attempting to malign their bid to establish Islamic rule in Swat. Since then, after recovering from surgery, she has taken her campaign to the world stage, notably with a speech last year at the United Nations.
More than two years after the incident that nearly claimed her life, Malala Yousafzai is the youngest person to win the Nobel Peace Prize. The prize which she learnt she had won while she was in chemistry class in England on Friday morning comes exactly exactly 2 years and 1 day after she was shot. According to CNN news, Malala said she wasn't expecting to get the award, and at 10:15 a.m., she was sure she hadn't won. But soon afterward, a teacher called her over and told her she had.
She is quoted to have said she doesn't believe that she deserved the award but considers it an encouragement to continue her campaign and "to know that I'm not alone,".
Malala who shared the Nobel Peace Prize with India's Kailash Satyarth will attend the Nobel award ceremony in Oslo, Norway on December 10, and the two Nobel winners will receive medals and split the $1.1 million prize.
Kailash Satyarth, age 60, is an indian activitis who has shown great personal courage in heading peaceful demonstrations focusing on the grave exploitation of children for financial gain.
Satyarthi is quoted to have told reporters that the award was about many more people than him — and that credit should go to all those "sacrificing their time and their lives for the cause of child rights" and fighting child slavery.
"It is a great honor for all those children who are deprived of their childhood globally," he said.

"It's an honor to all my fellow Indians who have got this honor — it's not just an honor for me, it's an honor for all those fighting against child labor globally."
We at African Rubiz are proud of you Malala. Keep the flag flying!